Fruit d'Or supports its 15% annual growth with AtmanCo
As a user and ambassador of AtmanCo's solution, Fruit d'Or has experienced tremendous growth over the past 10 years, averaging 15% per year. Marie-Andrée Gagnon and her team now recognize AtmanCo as an expert partner with whom to build their HR best practices.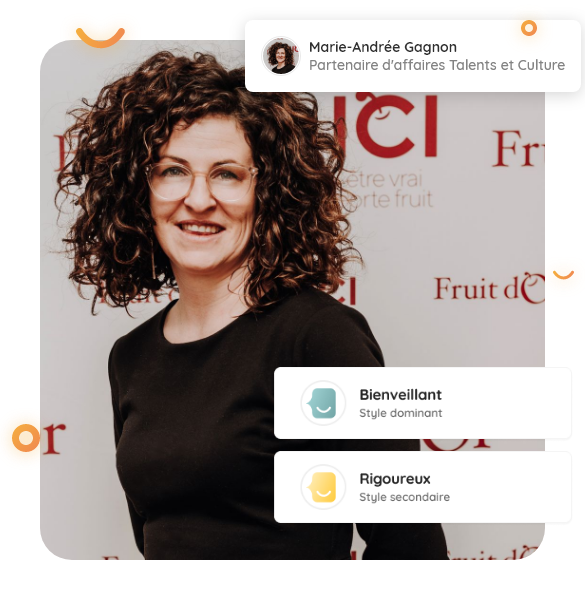 Fruit d'Or
A leader in berry processing since 2000, Fruit d'Or is the world's leading grower of organic cranberries and the second largest processor of organic wild blueberries. With distribution in over 50 countries, the world leader cultivates values of human leadership, where well-being is an integral part of its culture.
Choosing the right people is a challenge, but effective leadership is crucial to success, especially in fast-paced growth environments.
Marie-Andrée Gagnon
Business Partner Talents and Culture at Fruit d'Or
Fruit d'Or, a Quebec-based company, has seen significant expansion over the past decade, with an average annual growth rate of 15%. To meet its substantial recruitment needs and maintain its focus on the crops and people that have made it a world leader in organic berry processing, the company turned to AtmanCo for support.
The challenges
Fruit d'Or, has seen tremendous growth over the past 10 years, averaging 15% annually, going from sales of $52 million in 2012 to a whopping $236 million in 2021. This rapid expansion required the company to revamp its hiring process to ensure it was as efficient as possible.
The COVID-19 pandemic led to an even greater growth surge for the company, which had to hire 35 technical and professional positions in just a few months and 90 positions in total in 2 years.
Marie-Andrée Gagnon, Business Partner Talent and Culture at Fruit d'Or, explains:
"To increase our resources by 26.6% in a short period of time, you have to meet a lot of people! Without relying solely on my intuition (which is rarely wrong), the AtmanCo assessments helped us make the best choices of candidates. Those who are here to stay."
Marie-Andrée emphasizes that taking the time to communicate with employees was key to keeping them engaged. Simply communicating in this accelerated growth was a key HR issue, as it is in most companies navigating the significant challenges of balancing growth and managing talent turnover.
"Yes, it's a challenge to select the right people, but you have to know how to direct them well. And in a hyper-growth environment like this, it's difficult."
One of the challenges for Fruit d'Or was not only to select the best candidates for a position, but also to know how to develop them to then engage them and foster a long-term vision within the company.
To reach our business objectives, we prioritize the growth and development of our employees. This includes not only supporting their professional development, but also supporting their personal growth.
The challenges faced by Fruit d'Or:  
Identifying the ideal candidates amidst a massive and rapid recruitment
Ensuring managers have the tools and skills to effectively communicate and engage their team
Supporting employee ambition within the company as well as their development path
The solution
When faced with the challenge of recruiting for the manufacturing industry, Marie-Andrée found that having a clear understanding of a potential employee's natural talents and areas for development made choosing among candidates much easier.
"We are able to attract and retain the right employees by targeting the right candidates," says Marie-Andrée, who believes that AtmanCo tools also aid in effective leadership.
Fruit d'Or plans to utilize AtmanCo's technology not only for recruitment but also for team building, management training, and skill development.
We aim to foster a sense of camaraderie among our team members and promote self-awareness by encouraging the exploration of one's innate abilities - something that AtmanCo's tools make possible.
What I find particularly appealing about the tool is its visual interface, the level of autonomy it provides, and its user-friendly design. When I showed one of our managers the reports the tool can generate, she was impressed. It allows us to easily compare the strengths and skills of different employees and determine which are most important for a given role, making it a game-changer in our recruitment process.
Marie-Andrée has effectively applied her AtmanCo certifications to interpret psychometrics and has taken on the role of a coach to help her leaders gain insight into their team's strengths and how to optimize them.
The tool enables us to identify specific strengths within our teams, such as strong analytical skills in one team, a focus on discipline in another, and well-developed relationship-building abilities in yet another, all in a precise manner.
By combining my instincts with concrete data, I am able to make informed decisions on who would be the best fit for a role and our company culture. This approach allows me to look beyond a candidate's resume and professional references and be confident in my choices.
By making AtmanCo an integral part of their HR processes, Fruit d'Or is able to:
Adopt a scientific, data-driven, and informed approach to make better hiring decisions
Identify top candidates by evaluating personality, job fit, natural abilities, and skills to be developed
Empower managers with full authority by establishing clear communication with HR for prompt action
Assess employee potential and design tailored development plans to maximize their strengths
80%
80% positive impact on the match between a candidate and the organization
100%
100% positive impact on the overall hiring process, including selection, recruitment, and integration
80%
80% positive impact on employee motivation and engagement
Are you ready to experience the benefits of AtmanCo's impact?