80% : AtmanCo's Impact on Businesses Fulfillment
In partnership with AtmanCo, Équipe Humania uses skills assessment and development tools to identify the best candidates, reduce staff turnover, increase employee satisfaction and improve the performance of the company as a whole. Discover how this collaboration is a real driver of success and fulfillment.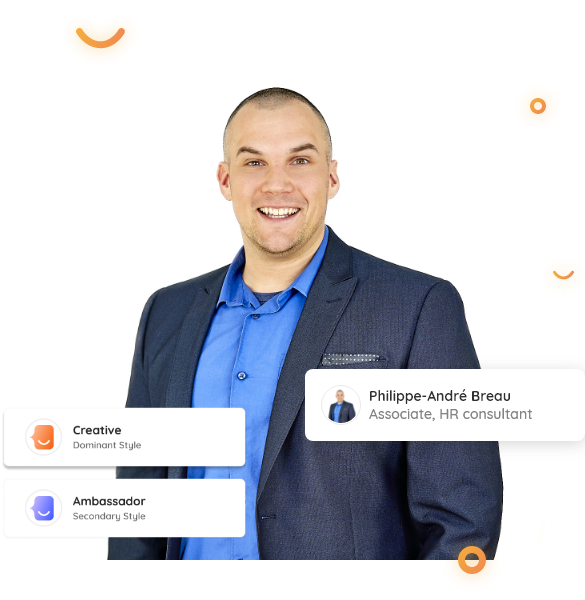 Équipe Humania
Since 2003, Équipe Humania has been specializing in supporting Quebec SMEs, with a team of 55 HR specialists. As business advisors focused on human resources, the Humania Team's approach is designed to simplify the lives of managers, put employee well-being at the heart of all interventions, and contribute to the growth and sustainability of organizations.
"The AtmanCo platform is an essential tool in our work. Literally."
Philippe-André Breau
Partner, HR consultant
The challenges
The challenges encountered by Équipe Humania during their interventions correspond to current challenges in hiring and retaining talent. In addition, there is the issue of team building and management skills development.
Recruitment has become a difficult issue in the current context of a lack of candidates, and it is a challenge to evaluate candidates according to their potential based on their personality and natural talents. The use of the AtmanCo evaluations makes sense in order to provide a complete, scientific and objective analysis of these crucial points in the hiring process.
Philippe-André explains that when companies are constantly on the lookout for new resources, one of the main causes raised in the diagnosis that the situation is linked to a low retention rate within the company.
"In such cases where retention is a problem, we diagnose the situation, find solutions that are easy for managers to implement and take charge of. If they make the same mistakes over and over again, they can't expect different results."
The challenges of Équipe Humania:  
Analyze candidates comprehensively and objectively during recruitment processes
Select the right candidates for their clients in a context of scarcity
Develop company-specific team-building and development workshops
Assess potential based on personality and natural talents
Target areas for leadership development
Strengthen talent retention
The solution
In a typical mandate, Philippe-André joins forces with Sara-Christine Rousseau, and they can draw on the AtmanCo platform to obtain personality profiles for each member of their client's team.
The expert in organizational change emphasizes the essential role of AtmanCo in diagnosing teams in order to target natural strengths and talents, especially when it comes to consolidating a team and recruiting a new resource.
The results of the AtmanCo evaluations can be used to assess specific needs, based on the candidate's personality, as well as to measure the degree of complementarity within the team.
In an interview, the AtmanCo evaluations also allow us to confirm our feelings before deciding whether or not to proceed with the application. Once the report has been directed using the evaluation information, it is very practical and easy to direct the interview questions according to these "points to consider".
The AtmanCo test is Philippe-André and Sara-Christine's preferred tool for their team-building workshops.
It allows them to focus their interventions on individual talents, and then to work on a better understanding of the similarities and differences within a team.
It is an extremely powerful tool for both recruitment and mobilization and it is a tool that I love to work with.
By making AtmanCo an integral part of their HR processes, Équipe Humania is able to:
Target natural strengths and talents for recruitment and team building
Identify essential management skills
Establish with managers a development plan for desired skills
Evaluate specific needs in terms of the candidate's personality and complementarity within the team
Confirm "gut feelings" during job interviews before making a decision
Strengthen cohesion by emphasizing individual talents and promoting understanding of similarities and differences within the team
80%
80% is the score given to AtmanCo's impact on the overall hiring process.
90%
90% is the score given to AtmanCo's impact in improving communication within the group.
90%
90% is the score given to AtmanCo's impact in identifying high-potential profiles.
80%
80% is the score given to AtmanCo's impact on the company's development.
Experience the AtmanCo impact
Resources from our experts
Get the tips, best practices and resources you need to foster happiness in your business, straight from our experts.