Alternative HR relies on a skills-based strategy
Valérie Villeneuve, Partner and Consultant at Alternative HR, explains why she chose AtmanCo to strengthen their strategy based on competency development. She testifies to the impact created for their clients and how this strategy allows them to see further, to innovate, and to propel Alternative RH's vision for the future.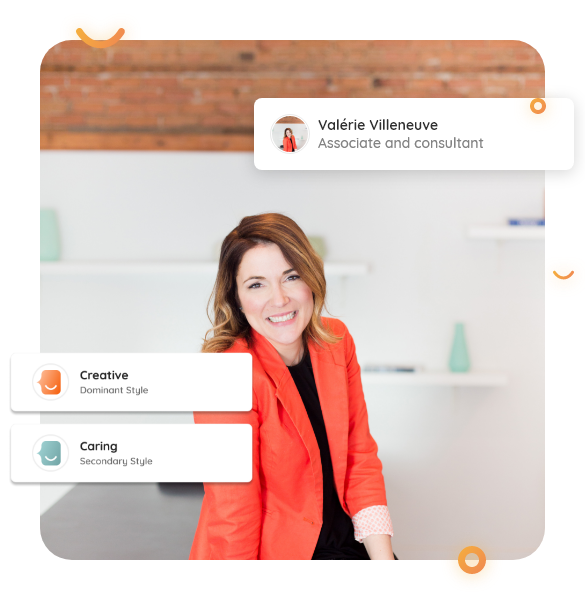 Alternative RH
Founded in 2010, Alternative HR is a consulting firm that specializes in all aspects of strategic human resources management and specialized training. Their goal is to help each client create a structuring, innovative and mobilizing work environment.
Our managers can now capitalize on an employee's motivations, aspirations, and dominant personality traits to promote their engagement in the right way.
Valérie Villeneuve
Partner and expert consultant at Alternative RH
The challenges
Identifying the skills that are essential to a company and developing them with the right learning tools to foster development are among the objectives of managers, who today are under great pressure to keep and grow their talents.
The maximization of talent potential is an expertise of Alternative HR. To know this potential, the study of candidates' skills is taken seriously, right from the beginning of the selection process.
From the time of hiring, investing in skills development to realize the full potential of a team is at the heart of their strategy.
Knowing the strengths of employees, their acquired skills and their skills to be developed, could influence the choice of a candidate according to his or her complementarity and added value in a team profile.
Alternative HR needed a solution to accurately calculate a candidate's abilities without having to prove themselves in action. They needed a technology that could analyze what defines their strengths and potential.
With the scarcity of manpower, the challenge is to find employees who will be there to stay.  AtmanCo has allowed us to innovate, grow, and work better with our clients.
The challenges of Alternative HR:  
Selecting the right talent profiles for their clients in a scarcity environment
Obtain a comprehensive picture of the candidates and their practical skills at the time of hiring
Evaluate and develop essential skills
Distinguish between personalities that converge at work within the same team
The solution
For Valerie Villeneuve, the search criteria for their talent selection tool were marked by innovation and a cutting edge vision of psychometrics.
Valerie saw the AtmanCo platform as the solution to their recruitment challenge. In more than one case, simple intuition suggested a strong potential for success for certain candidates during the interview process. Following the assessments, the tool revealed some areas of concern that were difficult to see in an interview, and thus allowed for better planning of development strategies:
"The data allowed managers to better adapt their integration plan and then their follow-up on the development of their employees. The solution greatly helps their daily work. Without the results of the assessments, they would never have noticed these areas of concern," explains Valérie.
In addition to decoding new data on candidates, AtmanCo has enabled them to validate 80% of the dominant skills and those to be developed, and to improve 60% of the motivation and commitment of their client teams.
Innovating and reinventing ourselves is part of today's HR world. AtmanCo's new ways of doing things and forward thinking have matched our mission, and allowed us to be more agile in the talent market.
By making AtmanCo an integral part of their HR processes, Alternative HR is able to:
Ensure confidence in candidate selection and optimize selection and hiring time
Create effective skills development programs tailored to the strengths and potential of the employee
Stand out from the crowd with an innovative approach that focuses on competencies
Understand the complementarity of teams
Equip managers to ensure management that promotes employee development and growth
60%
increased employee motivation and commitment.
80%
more accuracy to target the right skills to develop.
80%
easier to identify high potential profiles.  
Experience the AtmanCo impact
Resources from our experts
Get the tips, best practices and resources you need to foster happiness in your business, straight from our experts.